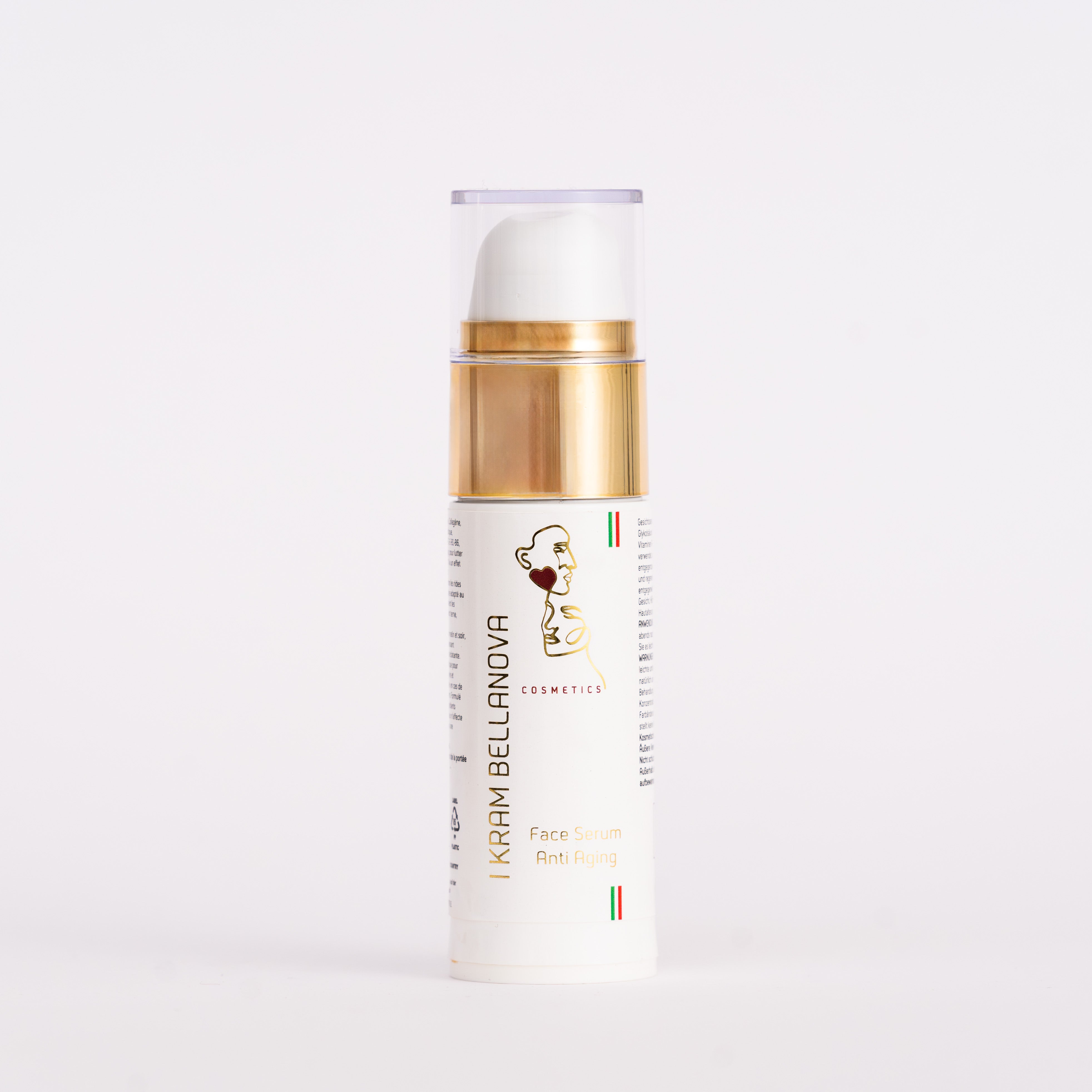 No.12 Face Serum Anti-Aging
Facial serum, rich in allantoin, collagen, elastin, glycolic acid, lactic acid, mucopolysaccharides, vitamins A-C-E-B1-B6, is used in anti-aging products to counteract the signs of skin aging. It has a protective, nourishing and regenerating effect that counteracts facial wrinkles particularly effectively. Serum with light texture, suitable for face, neck and décolleté. Prevents the signs of skin aging: dullness, dryness, dull complexion.
Cosmetological recommendations
For a perfect beauty routine, I recommend a facial scrub with GEL FACE CLEANSER Two/three times a week, a daily cleaning in the morning and evening with the CLEANSING AND TONING MILK.
SERUM 3 IN 1 BRIGHTENING, ANTI-AGING, MOIST URIZING For more mature skin, LIFTING FACE CREME .
Application
Apply the serum in the morning and evening after facial cleansing and massage it lightly. The skin becomes fresh and radiant.
Warnings
Is a cosmetics for adults. Any slight and temporary redness of the skin is natural and normal: in case of persistent reddening of the skin, stop treatment. Produced with a high concentration of natural ingredients: any color change does not affect the effectiveness and does not represent a change in the product.
INGREDIENTS
AQUOLIN [ALWATER], LIAIL ONCRETION) HAPRYLATE, CAPRYLIC/CAPRIC TRIGLYCERIDE, DICAPRYLETHER, ETHYL HEXYL STEARATE, HYDROXY ETHYL ACRYLYL/SODIUM ACRYL ROYAL JELLY POWDER, HONEY, TOCOPHERYL ACETATE, TOCOPHEROL, RETINYL PALMITATE, HELIANCENTHUS BENOSTUUS, YSATCLITUM, YSATICLITUM, [FRAGRANCE], PHENOXY ETHANOL, ETHYL HEXYL GLYCERIN, SODIUM DEHYDRO ACETATE, SODIUM HYDROXIDES, POLYSORBATE 60, SQUALANE, SORE GERANIOL, LINALOOL, HYDROXY CITRONELLAL, HEXYL CINNAMAL.
---